Jump into one of our three-week summer programs! Explore a different culture in this "hands on" program which is fun for everyone. Broaden your perspective through exciting and relevant field trips. Come home with new skills.
Here are some of the places you can expect to visit –
Cathedrals
Chartres, Bayeux, Le Mans, Notre Dame (outside only during reconstruction)
Châteaux/castles
Chenonceaux, Amboise, Lassay-Les-Châteaux, Sainte Suzanne. Le Mont St Michel, Bourgon, Falaise (birthplace of William the Conqueror).
Museums
Louvre, Jublains (Roman village and museum).
Paris
Eiffel Tower, Palace of Versailles; Montmartre, Seine River cruise.
World War II sites
Omaha Beach, Arromanches 360 cinema; US cemetery, Pointe du Hoc
Included in Trip
21 nights accommodation (including 3 nights in Paris)
All tuition and instruction
Breakfast, Lunch, and Dinner*
All transportation within France
Transportation to and from the airport in Paris**
All books and materials for the course
Guest Presentations, Workshops, and Field Trips
Laundry Facilities
All cultural and social activities organized by Live and Learn, Inc (including sports, excursions, museum and gallery admissions)
* Lunches and dinners in Paris are at your own expense (3 lunches and 3 dinners).
** Transportation is provided from the airport in Paris IF you are part of a group arriving together. If you are arriving separately, there will be a $250 surcharge.
Price does not include personal expenditures, i.e. snacks, souvenirs, and so on.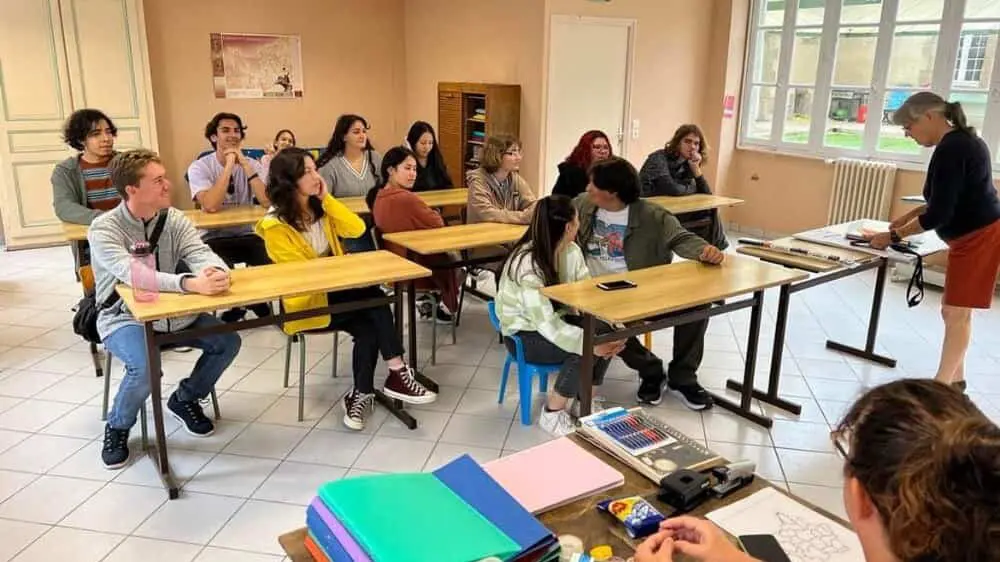 Courses
Highlights of French History
From pre-history through the Roman invasion, medieval times, Renaissance, Revolution, World War I, to World War II, including architecture and use of chateaux and cathedrals. Topics are covered using a variety of methods such as traditional lecture, group activities, discussion, reenactment, and, of course, field trips to key locations relating to our studies.
Highlights of French Culture
France is one of the great cultural centers of the world. Known not only for their great artists, writers and musical composers, the French were among the earliest pioneers of photography and cinema. This summer we will explore French contributions to music, art, literature, architecture, photography and film. This class will not only deepen your appreciation of the art and architecture we explore around France. It will also give you an opportunity to produce some art of your own, if you would like, in the form of visual art, performance, photography and even filmmaking.
La Maison de Perrine
Known locally as La Maison de Perrine (Perrine's House), the school is often referred to as "the jewel of the village". Perrine Tulard, the building's founder, was passionate about education, and unusually for the time, the education of poorer girls. For 300 years, the religious order (Sisters of Charity of Evron) enhanced the lives of local girls, who otherwise would not have received an education.
Built around a central courtyard, the school offers safe, quiet and comfortable accommodation for its modern students. Check out our photo gallery to see our facilities.
The entire program is now being offered at a discounted rate of $3,900!
Frequently Asked Questions
How can this trip enhance my college résumé?
Making a college application stand out is becoming increasingly difficult. Competition for places is tough. Former trip participants have reported how they have used this experience to set them apart in the application process. A trip like this tells a college that you have been adventurous, been able to function independently in another country, marks you as a team player, and shows you have an inquiring mind about the outside world.
Do I need to know French?
No, the courses are taught in English. Of course, if you are learning French, this is a wonderful opportunity to practice your skills.
How far is the school from Paris?
The village of La Chapelle au Riboul, in which the school is located, is a 3 hour drive west of central Paris. It's 2 hours south of the Normandy, D-Day beaches, and 2 hours north of the Loire Valley.
I have a relative who lives in Paris. Will I be able to meet them on this trip?
This is usually possible, subject to the appropriate permissions being granted by parents/guardians, and if the arrangement does not inconvenience the whole group.
Can I bring people not from my school?
Yes! Have them contact us for the application form.
Can I pay by installments?
Yes, this is a great way to spread the cost.
Is there anything not included in the price?
Yes, your personal purchases. Also, for those programs that have a stay in Paris, the meals in Paris are not included. This is because the group often splits up to eat at the restaurant of choice.